Story of Martyrdom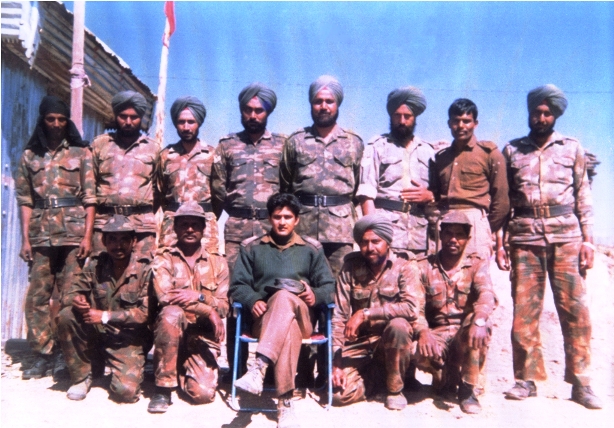 Last photograph of Captain Vinayak - 20th Sept 1995
Taking strength from the Vivekanand Rock Memorial that stands firm against the battering Indian Ocean, taking inspiration from the unity in diversity of Mumbai and taking blessings of Lord Ganesha, Vinayak decided that he has to live for a bigger goal and i.e. the goal of national security. In order to fulfill his goals, he sacrificed his life at the Kupwada Border on 26th September 1995. The story of Captain Vinayak, is not about sketching past but it is about drawing a future from an inspiring personality.
Captain Vinayak enjoyed the relaxing vacation at home before marching to his duty-zone, fresh and lively from the vacation, he was ready to take on any challenge which came by. On vacation or on-duty, always his mission in life was to utilize his skills for the protection and prosperity of India.
26th September 1995, the Navratri celebrations began all over India. People were queuing up at Godess Durga Temples and spirit of festivities was woven all around. However, in all these festivities, often we tend to belittle the true learning's of Navratri i.e. to safeguard good against all forms of evil, but there are these extra-ordinary sons such as Captain Vinayak, who were literally following on Goddess Durga's teachings. They were upright in their duty to protect the nation. For them, every night is Navratri as they live by the spirit of fighting against demons who are trying to foster instability in India.
It was just another day on duty for Captain Vinayak's troop. His troop had done an excellent duty for the last 3.5 years at this front and they were preparing to move on to their next assignment, some had already moved. Captain Vinayak along with few others stayed at the border and today like any other day they were barriers for any barbarian desires of the enemy. Darkness had erupted at sunset, for some it would be end-of-shift, but not for Captain Vinayak. At this hour also, he was actively ensuring a secured India through his alert mind, vigilant eyes and determined will.
As darkness deepened, the enemies fired missiles from across the border on Captain Vinayak's troop and Captain Vinayak took position to execute a thundering response to these tactics. No one knew that destiny had some different plans for the captain today. While the whole of India was dancing to Garba tunes, Captain was battling with the enemy. Finally the stinger targeted for Captain Vinayak, completed its job by hitting him in the temple. The brain full of dreams & ambitions to serve the nation burst into pieces. The breath that shouted the slogans for the country had been silenced. The oath taken at the passing out parade was fulfilled. The captain breathed his last, cozily cradled in the lap of the motherland he fought for!
But… definitely it was not the end of the dreams of Captain Vinayak! How could God let such a supreme sacrifice go to waste!!! He was chosen for awakening the youth of the nation. When Captain Vinayak's flight landed in this dazzling Mumbai, people were shaken by knowing the reality at our borders and his sacrifice enlighten the fire of patriotism in the many young minds.
Captain Vinayak sacrificed life's comfort for executing the duty of a brave soldier, a proud Indian and an honored son. His story is an inspiring tale of a person, who among all available options made the choice of becoming soldier to protect Indian borders. His sacrifice has helped us to revisit our life's mission and it encourages us to participate in nation building.
Jai Hind.